Young Persons Lecture Competition 2019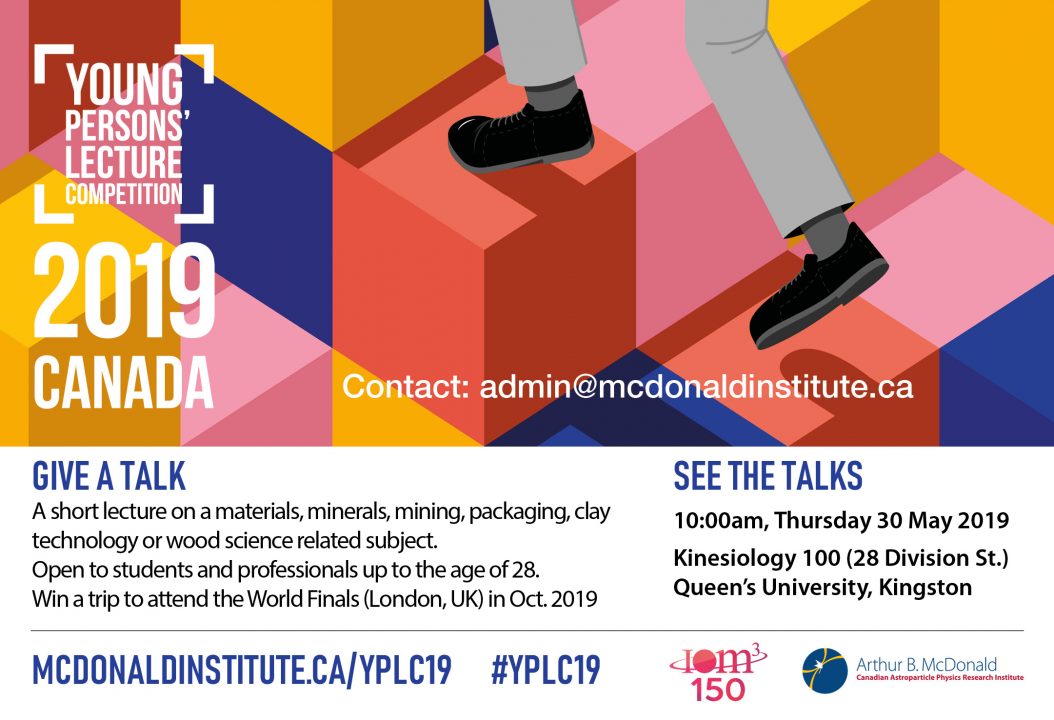 About the Young Persons' Lecture Competition
Sponsored by the Institute of Materials, Minerals and Mining (IOM3) and hosted by the Arthur B McDonald Canadian Astroparticle Physics Research Institute, the Young Persons' Lecture Competition invites students and professionals aged 28 and below to deliver a short lecture on a materials, minerals, mining, packaging, clay technology, and wood science related subject. We encourage the physics community with a linkage to the aforementioned subjects to apply.
This competition will be held at Queen's University on May 30, 2019. This is the first Canadian participation in the competition which originated in the UK as a way of encouraging young materials engineers and scientists to develop their presentation skills. The competition began over 25 years ago in the UK before expanding overseas in when the Young Persons' World Lecture Competition was formed.  Following the May 30th, 2019 competition, the Canadian finalist will be announced and invited to compete in the Young Persons' World Lecture Competition to be held in October 2019 over a week in London including social and professional visits.
Results from May 30th: 
The standard of presentations exceed expectations and was a wonderful display of ground breaking research happening at Queen's University. Congratulations to all of our competitors. The judges had a difficult time deliberating with the stiff competition, however, the standings are as follows:
Connor Stone (honourable mention)
Benjamin Tam (3rd place)
Hannah Ramsay (2nd place)
Morgan Lehtinen (Canadian Finalist headed to the Young Persons' World Lecture Competition)
Select event photos are posted on the Facebook Event page.
Thank you again to everyone that participated, and we hope to return next year. Please stay tuned.
What you need to know
Who: Anyone aged 28 or under as of June 1, 2019 can apply
What: Compete in a 15 minute public lecture competition to be named the Canadian Representative
When: May 30, 2019, 10am
Where: Queen's University, Kinesiology 100, (28 Division St, Kingston, Ontario)
Why: Win an expense paid trip to attend the Young Persons' World Lecture Competition in October 2019 (London, UK)
Questions? Contact: admin@mcdonaldinstitute.ca
Important dates
May 9th, 2019: Entry form deadline. *Following the abstract submission, the applicant may be asked for a short video or audio recording of their presentation skills.
May 15th, 2019: Participants contacted for invitations to present
May 30th, 2019: Competition day at Queen's University, Kinesiology 100 (28 Division St., Kingston, Ontario), 10 am. The public are welcome and encouraged to watch.
The following judging criteria and penalties will be used
Abstract – 10 marks
Structure of lecture – 25 marks
Standard of presentation – 25 marks
Visual aids and physical examples – 10 marks
Technical content – 15 marks
Handling questions – 15 marks
Lecture time –
Over 17/19 mins: -5/-10 marks
Under 13/12 minutes: -5/-10 marks
&nbsp