IGnite: Research Stories to Inspire Generations
Public Events
Location: Kingston Frontenac Public Library - Central Branch. 130 Johnson St, Kingston
Date: January 30, 2020
Time: 6:30pm - 9:00pm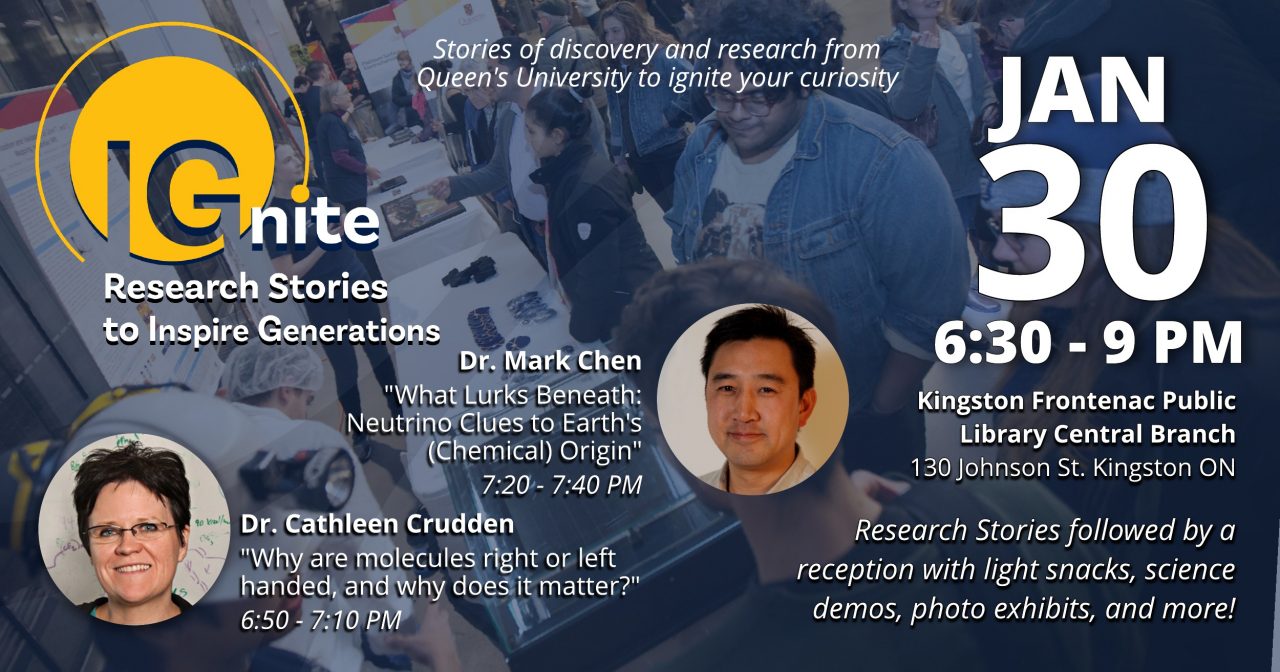 Free registration at ignite-jan30.eventbrite.ca!
Come and be inspired by the exciting demonstrations of research and stories of discovery from researchers across many fields at Queen's University. IGnite showcases a variety of ways that research is expanding our technology and understanding of the world! Come and be entertained, informed, and with any luck, inspired to pursue your own lines of research and discovery!
Ask any Nobel Prize winner "How did you get interested in *blank*?" and they'll tell you about some event in their teens that sparked a curiosity inside them that never went away. Eventually, that curiosity grows from a flickering match to a shining star, leading to questions that nobody has answers to. IGnite hopes to be that spark, spreading inspiration through your family and our brilliant Kingston community.
Our demos and speakers are selected not only for their accomplishments but also for their ability to give engaging presentations and tell the story of their research to a wide variety of audiences. This makes IGnite accessible to anyone curious enough to attend.
On January 30th, 2020, at Kingston & Frontenac Public Library's Central Branch (130 Johnson St.) IGnite will start at 6:30pm with a pre-reception in the main floor of the Library with demonstrations from Queen's and Kingston partners. At 6:45 the event will move upstairs to feature Particle Astrophysics Professor Mark Chen and Chemistry Professor Cathleen Crudden. Professor Mark Chen will give a talk titled "What lurks beneath: Neutrino clues to Earth's (chemical) origin" on how the Nobel Prize-winning SNO experiment is able to see radiation from the centre of the Earth. Professor Cathleen Crudden will give a talk titled "Why are molecules right or left handed, and why does it matter?" on the fact that our bodies and the materials we interact with have particular 'handedness' that make all the difference in whether they work as intended, do nothing, or possibly cause harm. Students doing related work will also be highlighted, with plenty of opportunity for questions and discussions.
Please contact us at Outreach@McDonaldInstitute.ca regarding accommodation needs or any other questions. Our facebook event can be found here: https://www.facebook.com/events/628069991297174/.
**Note tickets do not secure a seat during the talks, so please arrive early.**
**Photos will be taken at the event. Please let a member of the McDonald Institute Team know if you would like to not have your photo taken.**
&nbsp