Astronomy on Tap
Public Events
Location: The Kingston Brewing Company - 34 Clarence St, Kingston, ON K7L 1W9
Date: February 27, 2020
Time: 6:30pm - 8:30pm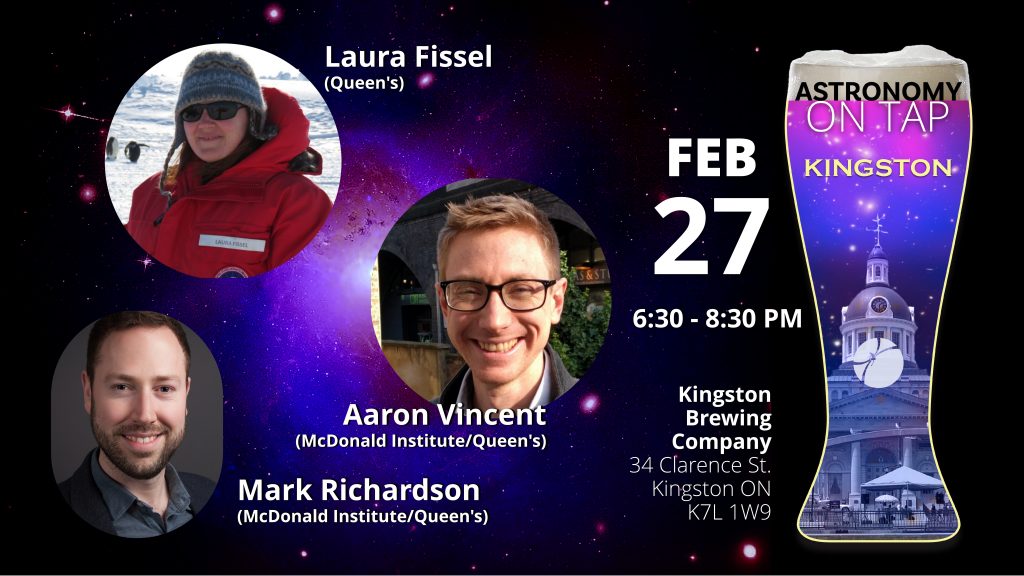 Astronomy on Tap continues in Kingston with another free event on the top floor of Kingston Brewing Company on February 27th at 6:30 pm.
Astronomy on Tap is a series of worldwide events in which professional astronomers give informal talks at a local bar on topics of a broad interest in astronomy and astrophysics. This particular event will consist of three 10 minute talks, followed by questions. Speakers will mingle with the audience between and after the talks, and there will also be trivia sessions with questions related to astronomy. At the end of the night, prizes will be given out to the winners!
For this event, we will feature three fantastic astronomers/astroparticle physicists: Laura Fissel, Aaron Vincent, and Mark Richardson. The evening will follow the theme of "Motions in Galaxies". The event will also feature trivia and some games for all participants, and lots of opportunities to have a pint with some keen astronomers.
Our featured talks include:
"Studying how stars form with a balloon-borne telescope"
"High energy particles from outer space"
"Galaxies break wind: How astronomers study galactic diets"
The event is free and open to all ages. The Kingston Brewing Company has alcohol, soft drinks, and food. The event will be upstairs as you come inside.
Space is limited, so we encourage you to arrive on time!
For more information or if you have any questions, please send us an email to AoTKingston@gmail.com or contact us through our
Facebook page
.
&nbsp