McDonald Institute's Summer of Science
McDonald Institute's Summer of Science - FREE
While recognizing the difficulty at this current time, the McDonald Institute will again be running a summer program, now titled the McDonald Institute's Summer of Science (previously MI-QUARKS). The Summer of Science is a free online afternoon enrichment program for a small group of high school and middle school students (including students graduating this June). Over 12 afternoon sessions, this program focuses on physics and the process of doing science. The Summer of Science program is led by undergraduates and joined by scientists at the McDonald Institute. Participating students explore through hands-on activities a variety of content and practices that are part of the every-day job of the astronomers and particle physicists at the McDonald Institute. This program's goal is to supplement the focus on scientific content in the classroom with the tools of the trade that are at the heart of actually doing science. Activities will as much as possible involve students recreating and exploring these demonstrations at home before sharing with their cohort.
An example of skills and practices that may be touched on:
Inquiry,
Hypothesis forming
Experimentation
Data Analysis
Searching past research publications
Computer Programming
Presenting results
These skills will be covered through their application to physics content such as:
Fundamentals of Astronomy: Galaxy, Structure, Cosmology, Dark Matter
The standard model of particle physics: particles and how they interact
Neutrinos and DM from a particle astrophysics perspective
The Nobel-prize winning SNO Experiment
Evidence of dark matter
The nature of neutrinos
The hunt to detect these elusive particles
Students may also get involved with their instructor's research projects. This involvement will contribute to the research being done here at Queen's and will be recognized appropriately.
NOTE: The program is entirely free for all participants. 
Program Afternoons: Students will meet with their instructors over six weeks, ideally during Tuesday and Thursday afternoons (1:00 – 4:00 PM EDT) from July 7th – Aug 13th via a web classroom forum. Note: in your application email, please indicate any dates that may not work for you. We will accommodate you.
Program Conclusion: The summer program will end with a presentation by the students on their involvement in research projects over the summer. These presentations will be open for all to join, including friends and family.
The application period was closed on Monday, June 29th, at 4pm. We have accepted our cohort, and they have all been notified. We have also responded to all applicants who submitted before the closure with the status of their applications. We will endeavour to respond to those applications that were received after the closure, but it will take us some time, as we continue to receive nearly 100 applications a day, and so it is difficult for us to keep up. We apologies for the delay in responding.
We recognize there was significant interest in this program and we could not accommodate everyone. We are planning more programming to be available over the summer and during the school year. We encourage you to sign up for notifications of programs below, to like our Facebook page where we often post new opportunities, and to check out the STEM Stories held by the Queen's University Physics Department.
&nbsp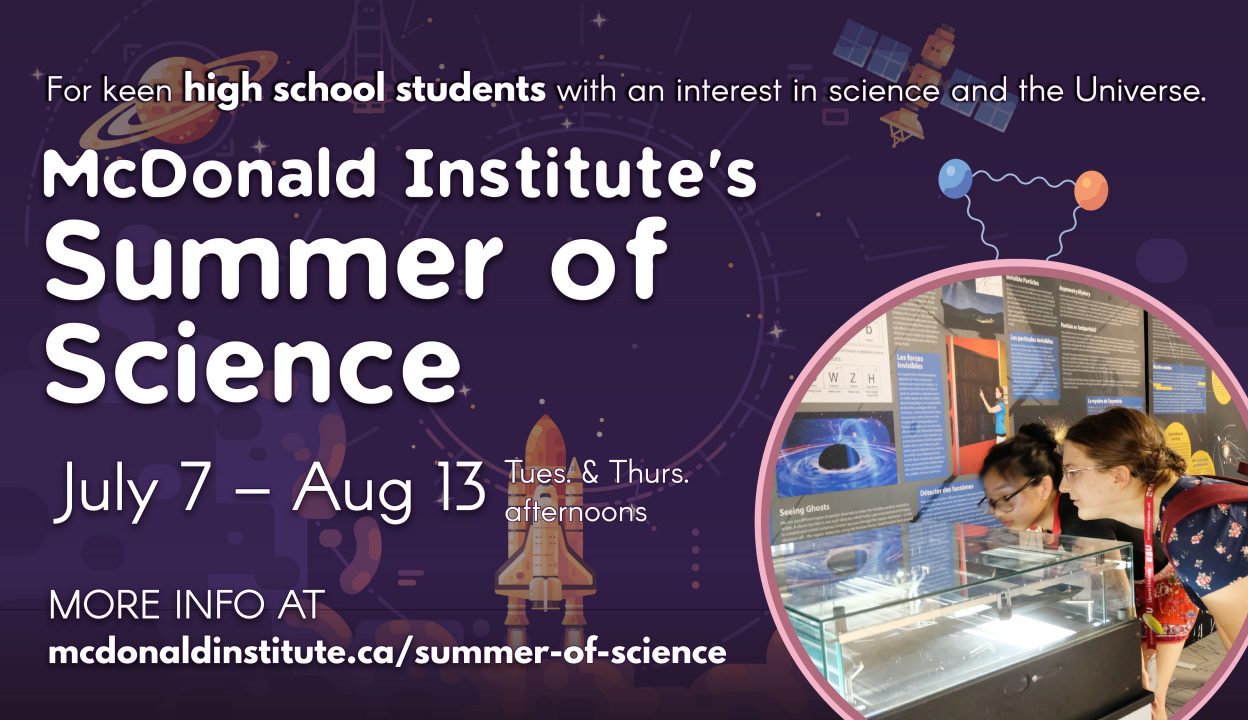 Scroll Up