IGnite: Research Stories to Inspire Generations
Public Events
Location: Kingston Frontenac Public Library - Central Branch. 130 Johnson St, Kingston
Date: November 27, 2019
Time: 6:00pm - 9:00pm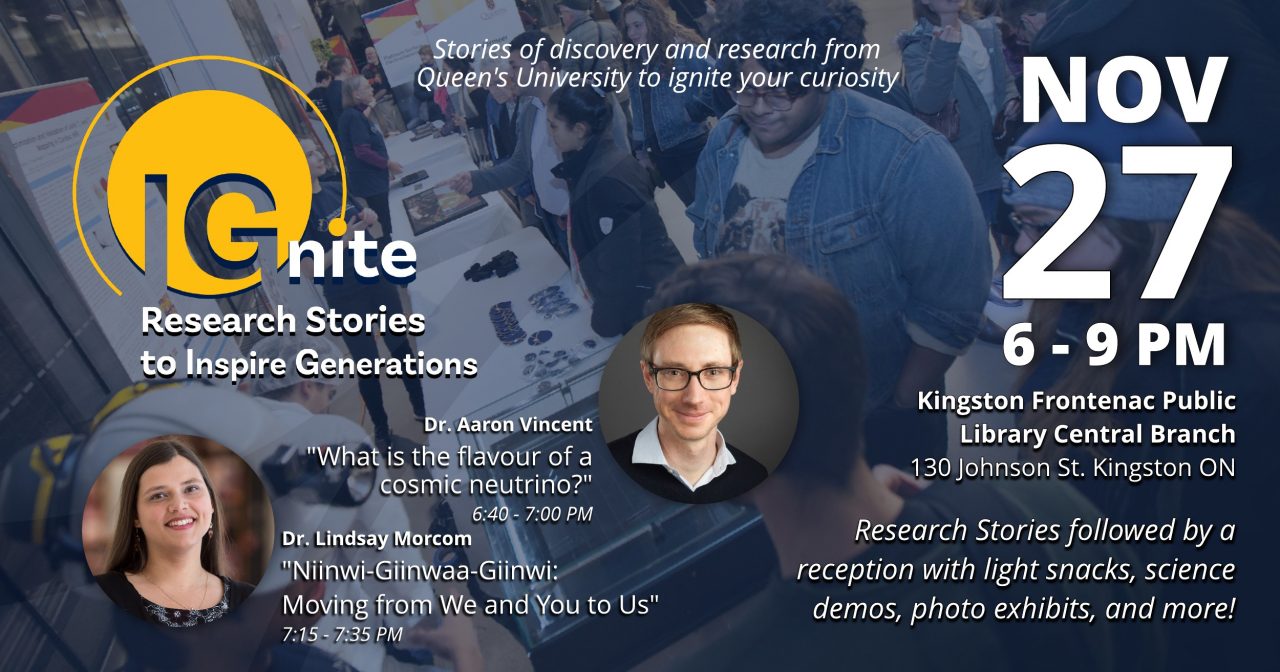 For free registration, please visit: https://ignite-nov27.eventbrite.ca.
Come and be inspired by the exciting demonstrations of research and stories of discovery from researchers across many fields at Queen's University. IGnite showcases a variety of ways that research is expanding our technology and understanding of the world! Come and be entertained, informed, and with any luck, inspired to pursue your own lines of research and discovery!
Ask any Nobel Prize winner "How did you get interested in *blank*?" and they'll tell you about some event in their teens that sparked a curiosity inside them that never went away. Eventually, that curiosity grows from a flickering match to a shining star, leading to questions that nobody has answers to. IGnite hopes to be that spark, spreading inspiration through your family and our brilliant Kingston community.
Our demos and speakers are selected not only for their accomplishments but also for their ability to give engaging presentations and tell the story of their research to a wide variety of audiences. This makes IGnite accessible to anyone curious enough to attend.
On November 27th, 2019, at Kingston & Frontenac Public Library's Central Branch (130 Johnson St.) IGnite will start at 6pm with a pre-reception in the main floor of the Library with demonstrations from Queen's and Kingston partners. At 6:30 the event will move upstairs to feature Professors Aaron Vincent and Lindsay Morcom. Professor Vincent, an astroparticle physicist, will give a talk titled "What is the flavor of a cosmic neutrino," a detective story to understand some of the most energetic particles ever seen in the Universe. Professor of Aboriginal Education Morcom will give a talk titled "Niinwi-Giinwaa-Giinwi: Moving from We and You to Us," focusing on ally-building in teacher education. Two students doing related work will also present on why they are interested in what they do. The talks will be followed by a reception featuring light snacks, the Art of Research and Global Physics Photowalk exhibits with some representatives, the Queen's Hyperloop Design Team, particle detectors and demonstrations, opportunities to connect with the speakers and others who are doing inspiring research at Queen's.
Free registration here (note tickets do not secure your seat; please arrive early as we will be issuing more tickets than capacity).
Please contact us at Outreach@McDonaldInstitute.ca regarding accommodation needs or any other questions.
&nbsp